With its exotic natural landscapes and hospitable culture, it is no wonder that Bali has become a tourist haven. But more than an island for unwinding, it has also become a place for significant investments to increase your income stream. Many foreigners have seen the potential of Bali, and this article will help you understand all the legal requirements you need to dip into the island's real estate market.
Can foreigners own property in Bali?
Foreigners can own property in Bali through a foreign-owned company, named PT PMA. It entails setting up the company before buying land, houses, or apartments. Owning property through either a leasehold or freehold is feasible. However, neither option grants full ownership to the foreign buyer, as only Indonesian nationals can obtain the highest ownership title Hak Milik.
Get help with buying property in Bali
Leave your name and email below – We will reach out to answer all your questions and assist you with buying property in Bali.
How can foreigners buy property in Bali?
If you are a foreigner looking to purchase or lease property in Bali, there are some important steps to consider to ensure the process goes smoothly.
Step 1: Establish a PT PMA
Establishing a PT PMA (a limited liability company with foreign ownership) is the first step to purchasing property in Bali. The PT PMA establishment can be done through the Indonesian Investment Coordinating Board (BKPM), which is the government office responsible for this. However, many foreigners choose to use a local agency to set up a PT PMA, which typically takes around ten weeks and costs approximately IDR 35 million ($2.380).
Using a PT PMA makes purchasing both freehold and leasehold property possible. If buying a freehold property in Bali, the PT PMA becomes the legal owner of the property.
For those who want to use the property for an extended period, leasehold – known locally as Hak Sewa – is a simple and convenient option. However, it is essential to note that with a leasehold, the property is rented for an extended period rather than owned. Typically, leasehold agreements last for 25 years and can be extended for another 25 and 30 years until a maximum of 80 years.
Apart from the legal differences, there are also tax differences between owning property through freehold or leasehold arrangements. You can read more about these taxes in our Bali property tax guide.
Step 2: Use a professional and reliable real estate agent
The Balinese real estate market is hard to understand, especially for foreigners. Using a skilled realty agent in Bali can save you time and energy throughout the property buying or selling process. They also provide access to a wider range of property listings and can easily track down properties that match your criteria. As these agents are experienced negotiators, they can help you navigate tricky negotiations involving delicate matters such as repair liabilities. By acting as intermediaries, they can help smooth out any conflicting personalities between the buyer and seller.
They have experience dealing with real estate contracts and know which conditions to include or remove to protect your interests. Moreover, an experienced real estate agent can help identify potential problems with a property that you may not notice, such as structural issues that may require costly repairs in the future. Spotting these issues early can mitigate future risks and make informed decisions.
Step 3: Find the right property in Bali
The next important step is finding the right property to buy. The ideal property should cater to the needs and preferences of potential guests and be located in a desirable area that is easily accessible and close to tourist attractions. Having a clear vision of the style and layout you want for your villa can help you determine the appropriate property size that will suit your needs.
Bali has various properties, from spacious and luxurious villas or apartments to cozy and affordable townhouses or apartments. The island is big, so there are several areas to buy property. Depending on your budget and preferences, you can find properties in the city center, near the business district, or in quieter residential areas. A professional real estate agent or property management company can assist you in finding the right property and ensure that all legal requirements are met before making any purchase or lease agreement.
Step 4: Verify the property licenses
Before starting negotiations or proceeding with a property purchase in Bali, it's crucial to request two essential documents from the seller:
Certificate of Property
If the seller fails to provide these documents or delays their delivery, it's a red flag that something is amiss. This step is crucial in preventing real estate scams.
Step 5: Perform due diligence
Conducting due diligence is a necessary step when investing in property in Bali. It involves verifying land ownership, validating licenses, and working with reliable real estate agents. By following these guidelines, you can streamline the process, negotiate a fair price, and make informed decisions.
When conducting due diligence, you should ask the following questions:
Who is the owner?
Is the owner married, and do they have their spouse's consent?
Was the property inherited, and are all beneficiaries willing to sell?
What type of property certificate does the property have?
Are the documents with the owner or at a bank?
What are the local zoning laws?
How much tax is required to pay for the property?
Note that depending on the transaction's size and purpose, you can delve deeper into these questions.
Get help with buying property in Bali
Leave your name and email below – We will reach out to answer all your questions and assist you with buying property in Bali.
Step 6: Sign the Sales Purchase Agreement and make a down payment
The Sales Purchase Agreement (SPA) is a legal document that outlines the responsibilities of both the buyer and seller in a property transaction. It must be signed in the presence of a public notary authorized for the area (PPAT). It's vital to ensure that the SPA protects your interests and that you comprehend all of the terms.
Typically, the buyer is required to make an upfront payment of 10-30% of the total purchase price. The buyer should transfer the payment directly to the person listed in the certificate of ownership. If the seller suggests a different recipient, it's best to withdraw from the transaction.
If the certificate of ownership is with a bank, it's necessary to agree on who will pay the remaining balance to the bank. It's also vital to wait until the notary (PPAT) obtains and verifies the certificates before transferring the remaining payment.
Step 7: Final payment and taxes
The final transfer and signing of the Deed of Sell and Buy should be done in front of the public notary. Before transferring ownership, both parties must pay the transfer tax:
Land Acquisition Tax: 5% for the seller
Transfer Tax: 5% for the buyer
A seller may suggest an "unofficial" price to lower taxes, but each property has a Tax Object Price (NJOP), determining the property taxes' amount. The transaction price should not be lower than the NJOP and should be considered "realistic" by the local government. Otherwise, it may prompt an audit.
Step 8: Change of ownership
The public notary will transfer the ownership to the buyer and register the transfer at the National Land Agency (BPN). The buyer will receive the Certificate of the Property, including all licenses and certificates. Both the buyer and seller receive the final sale and purchase agreement.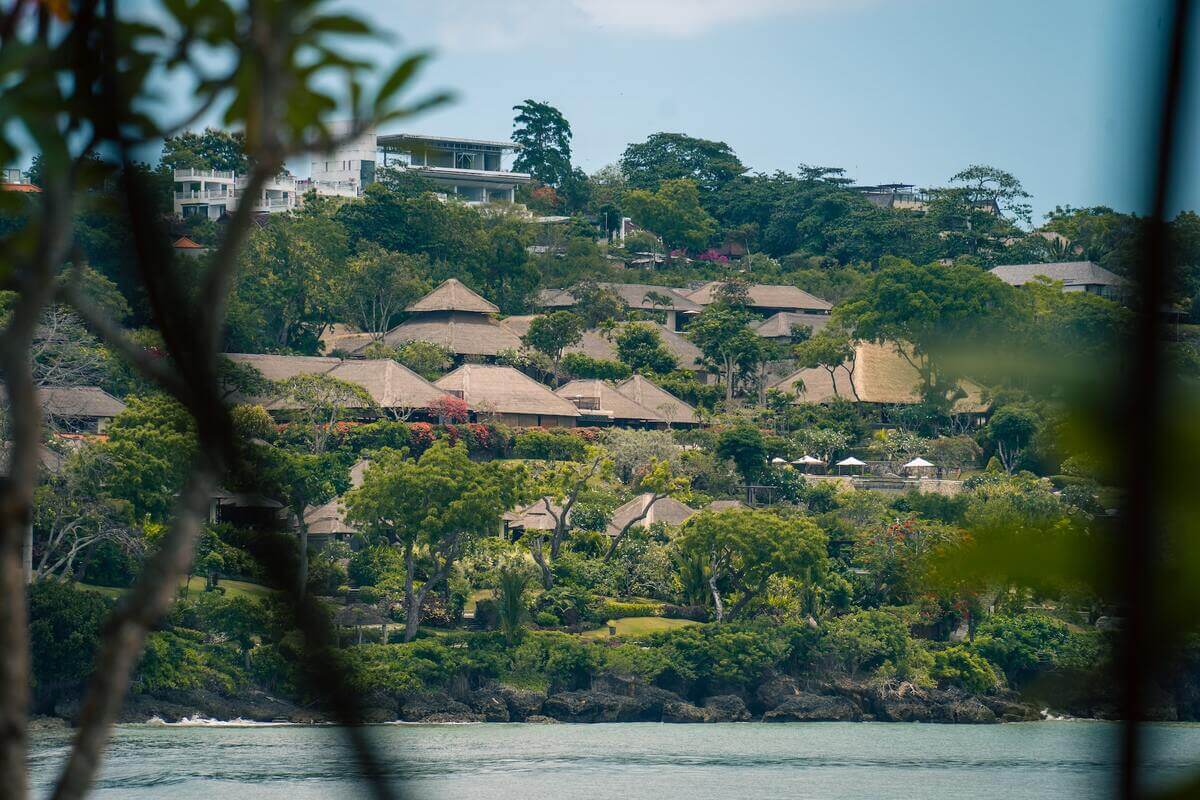 Can you buy property in Bali using an Indonesian nominee?
Since foreign nationals cannot obtain Hak Milik, some investors choose to have an Indonesian national act as a nominee to acquire a freehold title. At the same time, the foreigner enters into a trust agreement to "own" the property. Several foreigners buy property in Bali this way, although it is illegal as it undermines Indonesia's real estate laws and regulations. Might the government finds out, they can then take the real estate property themselves.
How to set up a PT PMA?
Setting up a PT PMA through the BKPM (Indonesia Investment Coordinating Board) can be daunting for foreigners, as even minor errors may result in significant repercussions. As a solution, many foreign investors prefer to use the services of a local agency to establish a PT PMA. This process usually takes around ten weeks and may cost approximately IDR 35 million ($2.380), depending on the agency. This article provides more details about establishing a PT PMA in Bali.
Consult with our expert real estate agent
When you let a real estate agent in Bali assist you, you save time and avoid headaches. Imagine no more hassle in finding the right buyers or tenants, handling paperwork, or negotiating deals. The real estate agent takes property viewings, ensures smooth transactions, and helps you get the best value for your property. You can also seek assistance for just one specific aspect of the selling or renting process.
Interested? Make your real estate journey smoother, and consult with our expert real estate agent to discover the possibilities for your villa in Bali.
Get help with buying property in Bali
Leave your name and email below – We will reach out to answer all your questions and assist you with buying property in Bali.
Conclusion
Buying a property, particularly in a foreign country, can be overwhelming for many individuals. Numerous legal requirements and administrative procedures may need to be clarified, which can lead to considerable investment in time and money to ensure a successful purchase. Therefore, it is imperative to seek the services of local professionals such as real estate agencies, notaries, and lawyers who can guide you through the process and ensure you understand every aspect.
Frequently Asked Questions (FAQs)
Can I live in Bali permanently?
Foreigners can live in Bali permanently by obtaining the appropriate KITAS.
Is buying property in Bali a good investment?
Buying property in Bali is a good investment because of the increasing interest in the real estate market. However, it has its risks, and potential rewards, so careful research, and consideration of factors such as location, property type, and legal requirements is essential before making a decision.
How long can you own a property in Bali?
If you have a freehold title, you can own the property in Bali for as long as you like. However, in other cases, such as leasehold or Hak Pakai, ownership, and utilization can be as long as 25 years which you can extend by agreement.