Selling property in Thailand as a foreigner can be challenging. Thailand's real estate market is as diverse as its landscapes. Understanding the specific rules and procedures involved before starting the property sale is important. Whether you're an investor, an expat, or someone who bought a property to reside in Thailand, understanding the steps and legal requirements is essential for a successful sale. This guide is here to help foreigners sell property in Thailand.
How to sell property in Thailand in 7 steps
Below are the seven steps to follow to sell property in Thailand.
Step 1: Do local market research
Start by researching all the nearby properties similar to yours to make the best choices. Getting a much higher price for your property will be challenging if there are many similar properties nearby with the same size, location, and features. Because of that, it's essential to understand the competition in the current market before deciding how to present the property for sale. This will make it easier to set the right price for your property.
Step 2: Hire a trusted real estate agent
Selling a home in Thailand yourself can be challenging. Some might think they can save money by not using a real estate agent while working alone can ultimately cost the seller money. Agents are good at finding people who want to buy property in Thailand, advertising the home, and negotiating prices. It's often a good idea to get help from a professional when you want to sell property in Thailand.
Real estate agents in Thailand usually have a team and support from a broker. Good agents check out all the houses for sale in the area, even the ones listed by other agents, to give the best advice based on what's happening in the neighborhood of the property.
Get help with selling property in Thailand
Leave your name and email below – Our property expert will reach out to explain more and help you with selling property in Thailand.
Step 3: Prepare the Thai property for sale
Selling a house in Thailand fast and for the best price is possible by making the property stand out compared to all other properties. Make the property attractive to impress people who want to buy it. Sometimes, even small changes can have a significant impact on the sale.
The house's overall appearance can be improved by changing small things, such as doorknobs and light fixtures. For instance, a dark room can be brighter by adding more or better light fixtures or an extra window. Painting the walls will give the house a well-maintained look, which makes buyers believe the whole property is in good condition.
Step 4: Set the price
Look at how many similar condos or apartments in your building or area have been sold in the past to set the best price. A local real estate agent can help you select the right price. When picking the selling price, leave some room for a 'reserve price,' which is the lowest amount you're willing to accept for the property.
Step 5: List the property
Listing the property on websites where people look for houses to buy is an excellent way to reach a large audience. Sites like Own Property Abroad can help you to sell property in Thailand.
Step 6: Property viewings and negotiations
Arrange property viewings for potential buyers to see the property. Be ready to engage in discussions regarding the sale price and terms. Transparently convey any specific conditions or preferences you may have for offers.
Step 7: Close the deal and sign the agreement
When the seller and buyer reach an agreement on the sale, they must arrange a meeting to sign the sales agreement and review other important documents. Working with a knowledgeable lawyer to review all the papers and agreements is essential to ensure everything is in order.
Here's a list of the papers you need to sell property in Thailand:
A report that shows proof of ownership of the land or condo.
Passport or ID card.
If available, a document for the house (called 'Tabien Baan').
Marriage or divorce papers (if applicable).
Any reports regarding taxes, warranties, or the house.
A document indicating an agreement to sell the house.
A document if someone signs on your behalf (Power of Attorney).
A bank document for condos if you're a foreigner.
A document indicating that only a few foreigners own the condo (only for condos).
A document to prove payment of all shared expenses if residing in a condo.
If there is an outstanding loan with the bank for the house, the bank will also be involved in the selling process due to their title for the land.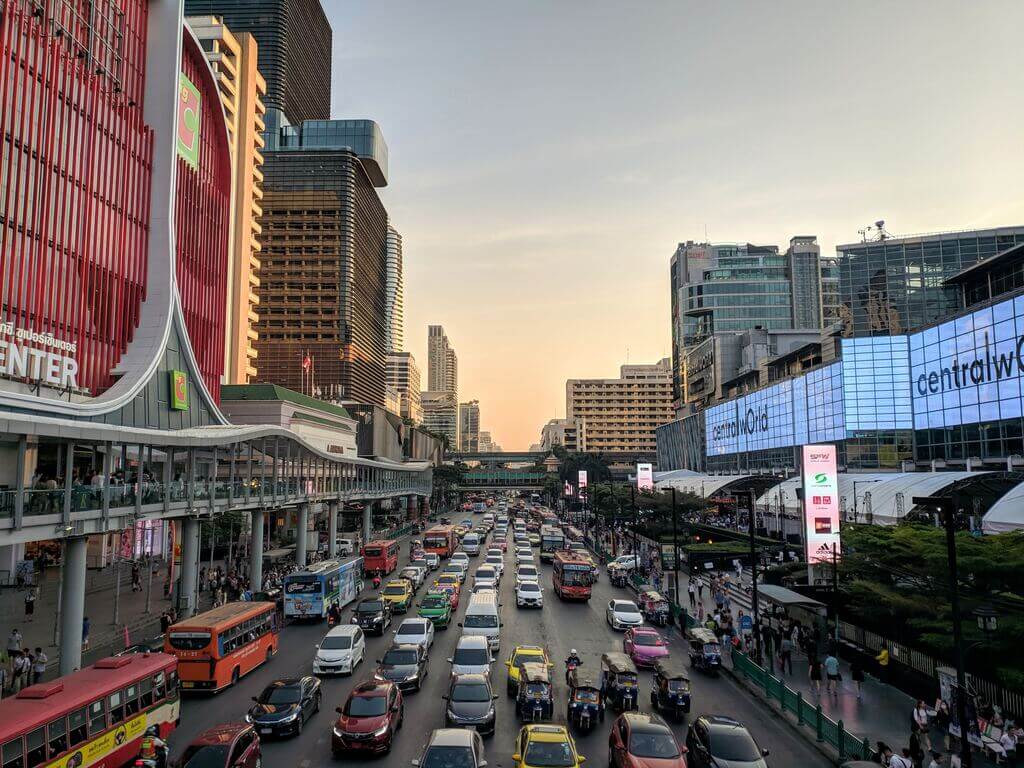 Property sales taxes and fees in Thailand
Property owners must pay property sales tax when selling property in Thailand. Below is an overview of the most essential property sales taxes and fees.
Registration fee
This fee is 2% of the higher amount between what the government considers as the property's value and the actual selling price. The government updates the property value every four years. To check properties updated values, visit the Department of Land.
Stamp duties fee
This is a fee of 0.5% of either the evaluating cost or the selling price, whichever is higher.
Business Tax
If someone owned the property for less than five years, a tax of 3.3% must be paid. This rate is calculated on the evaluating cost or the selling price, whichever is higher. However, if their name appears on the house registration certificate, they are exempt from this tax. Paying this tax also exempts them from the stamp duties fee.
Withholding Tax
When someone sells a property, it's like earning income, so they must pay income tax. This tax is determined based on the evaluating cost and the duration of property ownership, as specified by laws in Thailand, Section 49 of the Revenue Code (40(8)), and it should connect to the guidelines outlined in the royal decree (Revision 165, 2529 BC).
Expert tips for selling your Thai property
Here are some tips to follow for selling a property in Thailand quickly:
Provide detailed and accurate information: Provide comprehensive and accurate details about your property. Utilize bullet points to highlight key features and essentials.
Take high-quality photos: Take high-quality photos that show your property in the best light. Ensure to include multiple images in your listing.
Highlight the standout features: Emphasize your property's unique and attractive aspects. Use relevant keywords to attract potential buyers.
Include informative details for buyers: Include crucial information such as proximity to schools, infrastructure, transportation options, dining, and entertainment.
Mention the proximity to amenities: Mention proximity to shops, parks, open spaces, and popular attractions. You can provide a map and Google Street View for extra convenience.
Be honest: It's essential to be honest about your property's condition. Address any issues or faults pointed out by potential buyers promptly.
Communicate well and be flexible: Quickly answer questions from people interested in your house and regularly contact the real estate agent.
Be patient: Understand that selling a property may take time. Being patient in finding the right buyer is essential for a successful property transaction.
Sell property in Thailand with Own Property Abroad
Do you want to sell property in Thailand? Let Own Property Abroad guide you through a smooth property transaction. With our deep understanding and hands-on experience in the Thai market, we offer assistance with legalities, property search, negotiation, and due diligence.
Our dedicated team ensures you're not alone in navigating the complexities of the Thai real estate market. To learn more about how we can support you in selling property in Thailand, please leave your details below or contact us at hello@ownpropertyabroad.com. Let's start selling your Thai property today!
Get help with selling property in Thailand
Leave your name and email below – Our property expert will reach out to explain more and help you with selling property in Thailand.
Frequently Asked Questions (FAQs)
Can foreigners sell property in Thailand?
Yes, foreigners can sell property in Thailand, but they have to meet certain restrictions and requirements. These regulations can vary based on the type of property and its location.
What types of property can foreigners sell in Thailand?
Foreigners can sell condominiums in their name, subject to certain ownership limits. However, selling land or houses directly in their name is generally restricted, and they may need to explore alternative ownership structures like leasehold or setting up a Thai company.
Do I need a real estate agent to sell my property in Thailand?
While it's not mandatory to hire a real estate agent, it is highly recommended. Real estate agents can help you navigate the complex process, find potential buyers, and ensure that all legal requirements are met.
How long does it take to sell a property in Thailand?
The time it takes to sell a property can vary widely, depending on market conditions and the property itself. It can take several months to find a buyer and complete the sale.
Can I sell my property while I'm not in Thailand?
Yes, selling a property in Thailand is possible, even if you are not physically in Thailand. You can appoint a representative or hire a real estate agent to handle the sale.