Discovering the cheapest places to buy property in Portugal can present intriguing opportunities, whether you're contemplating a move to this country or exploring investment prospects. Portugal, renowned for its stunning natural landscapes, rich history, and vibrant culture, has attracted individuals from diverse backgrounds who aspire to own property within its borders. 
So, which regions offer the best deals on real estate in Portugal? This article will guide you in finding the cheapest places to buy property in Portugal. Let's have a closer look!
Where are the cheapest places to buy property in Portugal?
According to Idealista, Portugal's biggest property website, Nisa holds the top spot for having the most affordable houses in Portugal. On average, property sellers requested per square meter, making it the least expensive city in the entire country. Based on the Idealists's December 2022 selling price report, the ranking of the ten cheapest cities to buy a house in Portugal is as follows:
Penamacor, in Castelo Branco: per square meter.
Gois, in Coimbra: per square meter.
Fronteira, in Portalegre: per square meter.
Penacova, in Coimbra: per square meter.
Sabugal, in Guarda: per square meter.
Crato, in Portalegre: per square meter.
Nelas, in Viseu: per square meter.
Arganil, in Coimbra: per square meter.
Penela, in Coimbra: per square meter.
However, areas like Northern Portugal, Madeira, Central Portugal, the Silver Coast, Alentejo, and the Azores are still budget-friendly for real estate investment purposes. Below is an overview of the five cheapest places to buy property in Portugal to steer you in the right direction.
Get help with buying cheap property in Portugal
Leave your name and email below – Our property expert will reach out to explain more on this topic and answer all your questions.
1. Northern Portugal
The northern region of Portugal stands as one of the most densely populated areas in the entire country. The second-largest city in Portugal, Porto, accommodates the majority of the residents in this region. Acquiring a property in Porto is a frequently lucrative venture in the real estate market.
Nevertheless, several other towns in Northern Portugal present numerous prospects for affordable real estate investments beyond Porto. Information from Idealista indicates that the mean property price in the northern part of Portugal is €1,962 ($2,080) per square meter.
| District | Price per m2 |
| --- | --- |
| Braga | €1,529 ($1,621) |
| Guimarães | €1,486 ($1,575) |
| Porto | €2,503 ($2,653) |
Source:
Idealista
2. Madeira
This autonomous region of Portugal unquestionably ranks as one of the most captivating areas in the country. Residing in Madeira is undeniably a privilege. That's why owning a property in Madeira is an even more incredible privilege. It boasts some of the most stunning landscapes and finally receives the recognition it deserves.
Situated in the heart of the Atlantic Ocean, this tropical island offers a wealth of opportunities for expats. It is one of the most budget-friendly places to live, offering a relaxed pace of life. The real estate sector in this Portuguese region is thriving. Here's a breakdown of the real estate expenses in the sought-after neighborhoods of Madeira.
| District | Price per m2 |
| --- | --- |
| Câmara de Lobos | €2,073 ($2,197) |
| Ponta do Sol | €2,103 ($2,229) |
| Calheta | €2,724 ($2,887) |
| Funchal | €2,943 ($3,120) |
Source:
Idealista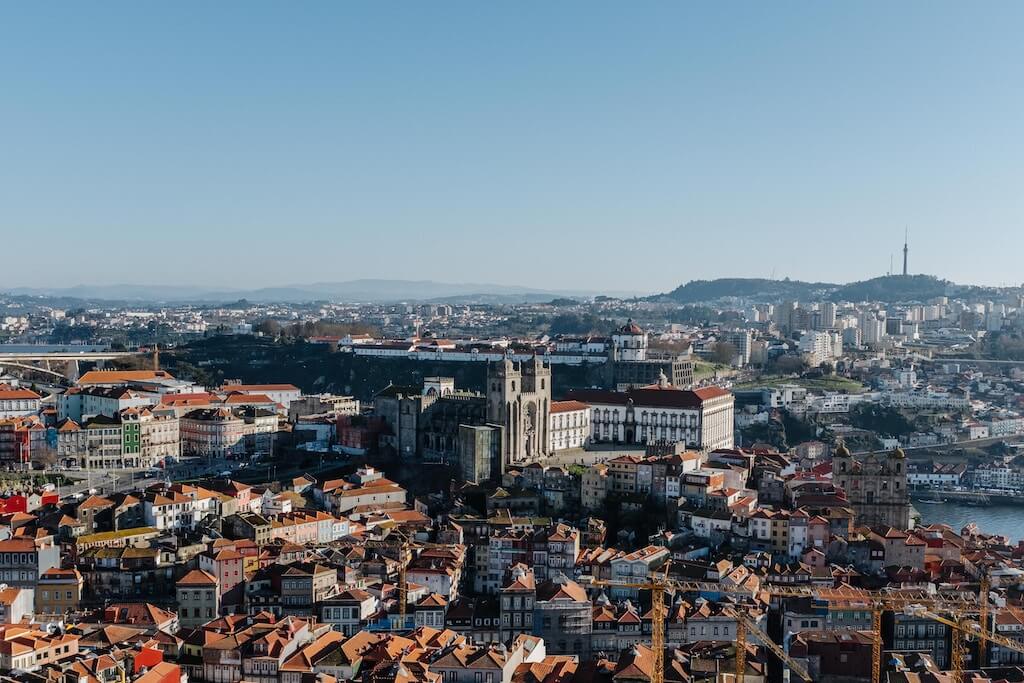 3. Central Portugal and the Silver Coast
Most tourists and expatriates often overlook the Silver Coast and Central Portugal. Commonly referred to as the Costa de Prata, it comprises a lengthy stretch of undiscovered historic coastal towns. The rugged coastline, adorned with pristine sandy beaches, provides an ideal setting for various water sports and activities. 
From a real estate perspective, this region encompasses three districts that consistently rank among Portugal's most economical places to invest in property.
These three cities are Aveira, Coimbra, and Leiria. To offer a point of comparison, in the Coimbra district, the average property price stands at €1,217 ($1,290) per square meter, starkly contrasting to major cities like Lisbon, where the price per square meter reaches €3,773 ($3,999).
| District | Price per m2 |
| --- | --- |
| Coimbra | €1,433 ($1,519) |
| Leiria | €1,515 ($1,606) |
| Aveiro | €1,673 ($1,773) |
Source:
Idealista
Get help with buying cheap property in Portugal
Leave your name and email below – Our property expert will reach out to explain more on this topic and answer all your questions.
4. Alentejo
If you're searching for a peaceful haven far removed from the bustling cities of Portugal, Alentejo is the ideal destination for you. This region, where tradition harmoniously merges with nature in Portugal, boasts extensive plains and medieval castles. Only recently has the world begun to recognize the breathtaking beauty of this area, sparking growing interest among expatriates.
A distinctive feature of Alentejo is its status as the region with the lowest population density in Portugal. Nevertheless, the real estate market here is gradually expanding, primarily fueled by tourism. If you're considering renting your property, Alentejo is an excellent choice.
Real estate opportunities in Alentejo experienced a notable upswing thanks to recent alterations in the Golden Visa Program. With Lisbon, Porto, and the Algarve no longer on the list of viable investment options, smaller towns like those in Alentejo took center stage, attracting numerous investors. Here's a detailed breakdown of property acquisition costs in various districts within Alentejo.
| District | Price per m2 |
| --- | --- |
| Portalegre | €663 ($703) |
| Beja | €1,044 ($1,107) |
| Santarém | €1,068 ($1,132) |
Source:
Idealista
5. The Azores
The Azores archipelago is situated in the vast Atlantic Ocean. It's renowned for its lush green hills and iconic black volcanic sandy beaches, contributing to its fame as a picturesque region. Investing in real estate in the Azores is a gratifying endeavor.
The Azores archipelago serves as a paradise for nature enthusiasts, offering rugged terrain and breathtaking scenery waiting to be explored. With nine islands, the Azores remain sparsely populated, with only 1.7% of the population comprising expats. Whether this is advantageous depends on your preferences and lifestyle goals when considering a move to the Azores.
There are many opportunities for purchasing land and homes in this region. Estimated property prices vary, ranging from €3,000 ($3,180) to €7,000 ($7,420) for rustic properties and from €40,000 ($42,400) to €80,000 ($84,800) for urban properties. If you're intrigued by the idea, some areas worth exploring include Flores, Graciosa, Santa Maria, São Jorge, and Faial.
| District | Price per m2 |
| --- | --- |
| São Jorge | €1,056 ($1,119) |
| Faial | €1,309 ($1,388) |
Source:
Idealista
Are these cheapest places better than the pricier ones in Portugal?
It's important to acknowledge that each Portugal region has challenges and advantages. Therefore, making a sweeping judgment about whether the cheaper areas are better would be unfair.
Some of the most expensive regions, such as Lisbon, Porto, and the Algarve, undeniably attract a higher influx of tourists and have developed extensive facilities to cater to this influx. Consequently, property values tend to be appreciated more significantly in these areas. This, in turn, allows property owners to generate substantial profits through lucrative short-term rentals during peak seasons.
However, it's worth noting that the Lisbon real estate market, in particular, has faced concerns about being in a bubble, with prices soaring to unsustainable levels. To gain a balanced perspective, let's explore the advantages and disadvantages of choosing the cheapest places to buy property in Portugal.
Advantages of buying property in the cheapest of Portugal
Here are some benefits of buying property in the most affordable places in Portugal:
1. Promising future real estate prospects
The recent changes in the Golden Visa Program have prompted many investors to shift their focus from major cities to rural areas in Portugal. The anticipation of future growth and development in these regions drives this shift. Portugal's overall real estate industry is also experiencing rapid expansion, increasing the likelihood of significant property appreciation shortly. Investors who are forward-thinking and patient may find these areas to be lucrative in the long run.
2. Overcoming over-tourism
Major cities like Lisbon and Porto have been grappling with the challenges of overtourism, especially during the peak tourist seasons. The influx of visitors can strain public resources and lead to overcrowding. In contrast, settling in Portugal's more remote and rural regions provides a quieter lifestyle, with fewer disturbances caused by excess tourists. This is particularly appealing for individuals seeking a peaceful and authentic Portuguese experience.
3. Affordable cost of living
Major cities often come with a higher cost of living, including housing, dining, and entertainment expenses. In contrast, the more affordable areas in Portugal offer a cost-effective alternative. If you value financial prudence and seek to make the most of your resources, these regions can provide a more budget-friendly way of life. This affordability allows residents to enjoy a comfortable lifestyle without the financial burdens associated with city living.
Cons of buying property in the cheapest areas in Portugal
Your investment returns may take time; while there is growing interest in these regions due to the revised Golden Visa program regulations, it's important to note that investment returns may not be immediate. Realizing substantial profits from your real estate investments in these areas may require patience and a longer-term perspective. The process of growth and development takes time, and property values may be appreciated gradually.
Factors to consider before buying property in the cheapest areas in Portugal
Before deciding to purchase property in the most affordable regions of Portugal, there are several crucial factors to consider. These considerations will be pivotal in ensuring that your investment aligns with your goals and expectations.
Location and accessibility: Assess the accessibility of the area, proximity to amenities, transport links, and whether it aligns with your lifestyle preferences.
Property market trends: Research the historical and current trends in property prices, demand, and potential for appreciation in the chosen region.
Local economy: Evaluate the economic stability of the area, job opportunities, and growth potential, as it can affect property values.
Legal and tax considerations: Understand the legal requirements for property ownership, taxation, and any specific regulations that may apply in the region.
Infrastructure and services: Examine the availability and quality of infrastructure, such as roads, utilities, healthcare, and education facilities.
Tourism impact: Consider the influence of tourism on the local economy and property market, as it can affect rental income and property demand.
Residency and visa options: If you're an expatriate, research residency and visa options available in Portugal and how they may apply to your situation.
Future development: Investigate any planned actions or infrastructure projects in the area, as these can impact property values.
Cost of living: Analyze the overall cost of living in the region, including everyday expenses, to ensure it aligns with your budget.
Local culture and lifestyle: Explore the local culture, lifestyle, and community to determine if it suits your preferences and long-term plans.
Rental market: If you plan to rent the property, assess the rental market, potential rental income, and occupancy rates.
Property condition and maintenance: Inspect the condition of properties thoroughly and consider ongoing maintenance costs.
Financing and legal assistance: Explore financing options and consider seeking legal advice or hiring a local real estate agent with knowledge of the area.
Resale potential: Think about the potential resale value of the property and how market conditions might evolve.
Personal objectives: Clearly define your goals for the property, whether for personal use, rental income, or long-term investment.
Conclusion
Portugal offers many affordable property options in picturesque locations. From the serene landscapes of the Alentejo region to the historic charm of Guarda and Castelo Branco, there's something for everyone's taste. As you embark on your property-buying journey, consider your budget, preferred location, and property type. With the right approach and expert guidance, you can make your dream of owning property in Portugal a reality.
How to buy cheap property in Portugal?
If you're prepared to invest in the most affordable property areas in Portugal, it's highly advisable to seek professional assistance. The public system in Portugal is known for its bureaucratic complexities, and navigating it can be pretty overwhelming, especially for individuals new to the process. Engaging the services of knowledgeable professionals can help streamline the property acquisition process, ensuring that you make well-informed decisions and avoid potential pitfalls along the way.
Get help with buying cheap property in Portugal
Leave your name and email below – Our property expert will reach out to explain more on this topic and answer all your questions.
Frequently Asked Questions (FAQs)
Is Portugal a good place to buy property for investment purposes?
Portugal can be a favorable destination for property investment, particularly in well-visited tourist regions. The country's growing tourism industry and diverse property market attract investors seeking long-term growth and rental income opportunities. It's essential, however, to conduct thorough research and seek professional guidance to make informed investment decisions.
Are there financing options available for international property buyers?
There are financing options available for international property buyers in Portugal. Many banks and financial institutions offer mortgage and lending services to foreign investors, making it feasible for them to purchase property in the country.
What are some key factors to consider when buying property in Portugal?
Some key factors to consider when buying property in Portugal include the location's desirability and potential for appreciation, legal requirements for foreign buyers, financing options, and the property's overall condition. Understanding the local real estate market trends and seeking professional advice can play a vital role in making a successful property purchase in Portugal.
Can I purchase a property in need of renovation in Portugal?
You can purchase a property in need of renovation in Portugal. Many real estate options, including properties needing refurbishment or restoration, are available on the market. However, it's essential to be aware of the renovation costs and legal requirements for property rehabilitation in Portugal before making a purchase decision.