Property management in Portugal is essential for those considering investing in this stunning nation with a pleasant climate and an easygoing way of life. If you're considering purchasing a property in Portugal, engage the services of a property manager to assist you in its management. This will help ensure a smooth and successful investment experience in this beautiful country.
List your property for rental in Portugal
Property management software is a robust tool for streamlining and automating booking management and reservations for your property. This rental management software is designed to alleviate property owners from the manual handling of each booking.
In search of the finest software for rental property management? When it comes to vacation rental software, a plethora of options are available, each offering distinctive features and functionalities. Here are some of the top choices to consider:
1. Airbnb
As one of the most popular and widely recognized property management platforms, Airbnb provides comprehensive tools and features. This platform allows property owners to efficiently manage bookings, securely handle payments, and connect with a vast global audience of travelers. By offering a more authentic and localized experience, travelers can stay in unique properties and personally engage with their hosts. Airbnb management charges a 3% fee for hosts and a 14% service fee for guests.
This steps guide will walk you through the process:
Apply for Alojamento Local: Portuguese law mandates that short-term rentals must obtain a license known as Alojamento Local. This license ensures that your property complies with safety, quality, and tax regulations. Securing this license before proceeding with your Airbnb listing in Portugal is essential.
Sign up on the Airbnb Website: Begin by visiting Airbnb's website and navigating to the sign-up page. Register yourself as a host to create your property listing.
Provide property details: Enter all the necessary details about your property in Portugal. Specify its location and the maximum number of guests it can accommodate, and select the appropriate property type. Click "Get Started" to move forward.
Choose the property type: Select the property type that best matches your listing. Airbnb offers a range of options, including apartments, villas, and guest houses.
Complete the listing details: Follow the prompts provided by Airbnb and answer all the questions regarding your property. This includes information about amenities, house rules, and pricing.
Add high-quality photos: To attract potential guests, upload high-resolution photos of your property. Remember that the first three pictures are particularly crucial in making a strong impression. Consider hiring a professional photographer to showcase your property effectively.
Set your pricing: Airbnb will offer a suggested price range based on comparable properties in your area. Starting with a competitive price can help draw initial bookings and establish a positive reputation. Over time, you can adjust your pricing based on your booking history and guest reviews.
2. Booking.com
Another prominent option for vacation rental software is Booking.com. Renowned for its extensive reach and broad user base, Booking.com offers a comprehensive property management system. It provides tools for managing reservations, updating availability, and accessing detailed analytics to optimize your property's performance. The user-friendly interface makes it relatively easy for property owners, including those who are new to the platform.
Booking.com operates on a commission-based model, where property owners do not pay upfront fees. Instead, they are charged a percentage of the booking when it is confirmed, typically ranging from 10% to 25%.
Listing your property on Booking.com in Portugal is a simple 9-step process. Follow these steps to register your property:
Go to the Booking.com sign-up page and click "Get Started."
Enter your email address and click "Continue."
Provide your first and last names and phone numbers, and click "Next."
Choose a password and click "Create account."
Search for your property type and select "List your property."
Fill in all the required details about your property as requested by Booking.com.
Booking.com will review your registration and send you a confirmation email once your property is approved.
Access the extranet (property dashboard) to add more information about your property, set pricing, and manage availability.
When you're ready, publish your property on Booking.com."
Security for your rental property in Portugal
Security for your rental property in Portugal, as part of property management in Portugal, is paramount. Here are four recommendations for ensuring optimal security for your rental property in this beautiful European country.
Tip 1: Invest in a comprehensive security system
The cornerstone of property management in Portugal is a robust security system. This should encompass top-quality locks, burglar alarms, fire alarms, and video surveillance. Such a system deters potential intruders and immediately notifies you in case of a breach. Video surveillance, in particular, serves as both a deterrent and a source of crucial evidence for law enforcement. Investing in a dependable security system significantly enhances the protection of your property in Portugal.
Several reputable home security providers in Portugal, such as Securitas Direct, Prosegur, and Verisure, offer various options. Starter kits for security cameras can begin at , with monthly subscriptions available for approximately .
Tip 2: Install safes for added security
Consider incorporating safes, especially if you're renting out your property. Safes offer guests extra protection for their valuables and important documents. You reduce the theft risk by securely storing items like cash, jewelry, and passports. Safes come in various sizes, catering to specific needs and the type of items you intend to safeguard. Opt for safes with fire and water resistance for enhanced security. Safes range from to .
Tip 3: Obtain property insurance
Property management in Portugal requires a comprehensive approach to risk management. Property insurance provides financial security and peace of mind, covering unforeseen accidents. Depending on their terms, policies typically encompass risks such as fire, theft, and natural disasters. Proper insurance coverage can mitigate the financial impact of liability claims. It's crucial to thoroughly review and understand your insurance policy, including its terms, coverage limits, and exclusions. Consulting a property insurance specialist lawyer is advisable to navigate the policy's potential pitfalls, exclusions, or legal complexities. Basic insurance plans typically start at approximately €83 ($89.14) annually, while multi-risk policies commence at around annually.
Tip 4: Partner with a property management company
In the wake of a security incident, the value of safeguarding your property becomes evident. This underscores the importance of engaging a property management company. These firms conduct regular security assessments and can proactively implement essential security measures to prevent potential incidents. Beyond deterring intruders, they can address troublesome tenants or renters who may pose security risks, ensuring your property's overall safety and security.
The cost of property management services in Portugal can vary based on your specific requirements. Typically, property managers charge around 20% of your rental income as their property management fees.
Get help with property management in Portugal
Leave your name and email below – Our property expert will reach out to explain more on this topic and answer all your questions.
Cleaning services in Portugal
To effectively manage your budget and time, it's crucial to determine the specific cleaning needs of your property in Portugal. Based on the situation, there are two primary categories of house cleaning services in Portugal: regular cleaning and deep cleaning.
Regular cleaning: This entails routine cleaning tasks such as dusting, sweeping, vacuuming, mopping floors, and cleaning surfaces. Professional house cleaners in Portugal ensure that each area of your property is consistently clean and well-maintained.
Deep cleaning: Deep cleaning services concentrate on more thorough and detailed cleaning tasks. This may involve cleaning hard-to-reach areas, sanitizing bathrooms and kitchens, removing stubborn stains, and addressing areas that require special attention.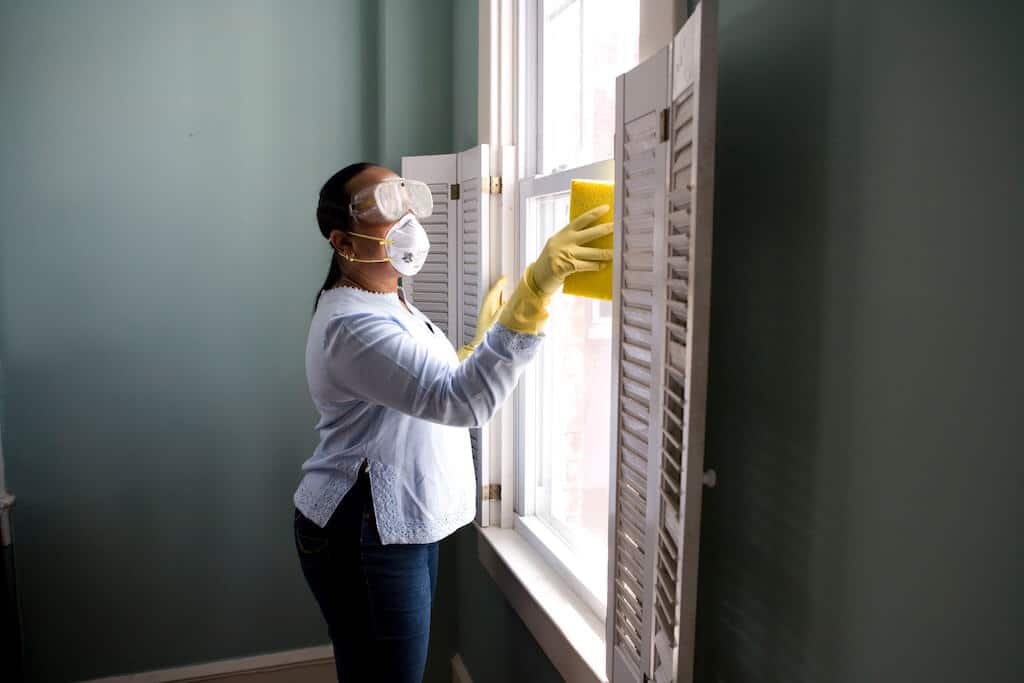 How to find a housekeeper or cleaning service in Portugal?
Securing the services of a housekeeper in Portugal or finding a reputable cleaning company can be challenging, especially when you're in a foreign country. While you can readily find cleaning services in tourist hubs like Lisbon, alternative methods exist to discover domestic help in less touristy areas.
Local directories: Check local directories or Yellow Pages specific to Portugal. These directories often feature numerous cleaning companies and housekeepers and their contact details. You can typically locate these directories at local supermarkets, community centers, or post offices.
Referrals: Seek recommendations from friends, neighbors, colleagues, or acquaintances who may have experience with trustworthy cleaning companies or maids in Portugal. Personal referrals can be invaluable when searching for dependable service providers.
Online platforms: Take advantage of online platforms designed to connect customers with service providers. Booking a housekeeper in Portugal is easier through platforms like Yelp, Google Maps, or local classified websites equipped with review and rating systems. These platforms allow you to browse listings and read user reviews to assess the reliability and quality of service.
Management companies: Consider engaging property management companies, such as an Airbnb management company in Portugal or a company specializing in property management in Portugal, as a valuable resource. These firms specialize in property management and often maintain a network of trusted service providers, including housekeepers and cleaning companies, with whom they have established relationships. By partnering with a management company, property owners can efficiently find reliable and professional housekeeping or cleaning services for their properties in Portugal.
House cleaning service prices in Portugal
The typical monthly expense for hiring a full-time housekeeper in Portugal is around . Hourly rates for house cleaning services in Portugal generally average per hour at . These rates may fluctuate based on the specific services required.
Property utilities in Portugal
Securing property utilities in Portugal can be complex. Once you've found or purchased a property in Portugal, the next step is setting up essential services before moving in.
Electricity in Portugal
Electricity is one of Portugal's most vital property utilities. The country operates on a voltage of 230 volts, with standard power plug sockets of Type F. It's essential to verify that your electrical appliances and devices are compatible with these specifications or have appropriate adapters ready.
Numerous electricity suppliers operate in Portugal, with EDP (Energias de Portugal), Endesa, and Iberdrola being the most renowned. You can find a complete list of accredited suppliers here. These companies offer a range of electricity plans and services catering to residential and commercial customers. It's advisable to compare their offerings and pricing to select the best supplier with your requirements.
The cost of electricity in Portugal can vary, influenced by factors like the contracted power level, chosen tariff option, and energy market conditions. Residential consumers in Portugal can opt for the regulated tariff or explore various offers available in the liberalized market.
To compare electricity and natural gas prices, you can utilize the energy price simulator provided by the Portuguese Energy Services Regulatory Authority (ERSE), which offers insights into the cost of utilities in Portugal.
Connecting your home to the electricity network
Request a connection with the ERSE to connect your property to the electricity network. You'll need to apply and undergo a technical assessment of your property. Once you have an electrical installation, you can contact an electricity supplier to commence service. It's worth noting that you can switch to another supplier when relocating to a property with an existing power connection.
Tap water in Portugal
The water supply in Portugal varies by region, with typically one or two water companies serving each area. A common query for property buyers in Portugal is, "Is tap water safe to drink?". The answer is affirmative; tap water in Portugal is generally safe and of good quality. However, bottled drinking water is readily available if you have specific concerns or prefer an alternate taste.
In Portugal, the average cost of water for an individual living alone is approximately per cubic meter. Portugal also offers a family water tariff, with reduced rates for larger families due to higher consumption.
The process and costs of obtaining water supply in Portugal may vary by region. Initially, you should request a water supply and provide identification documents and evidence of your property occupation rights. The water company may require additional copies.
Gas in Portugal
Many homes in Portugal experience inadequate insulation, resulting in discomfort during cold winters. Poor insulation makes it challenging to retain indoor heat, leading to higher expenses for gas, one of the more costly property utilities in Portugal.
The Portuguese government has capped gas prices at an average of per megawatt-hour to mitigate rising gas costs, aligning with EU arrangements. It's worth noting that many electricity providers in Portugal also offer gas connections, making it convenient to sign up for both utilities with the same company. When requesting an electricity connection, consider inquiring about a gas connection simultaneously to ensure efficient setup.
Several heating alternatives, including electric heaters, are available for warming your home in Portugal. Basic electric heaters can typically cost between and . More advanced models with features like programmable timers or energy-saving capabilities may range from to .
Internet
In Portugal, residents have a variety of high-speed home internet options to choose from. Numerous providers offer competitive packages featuring varying speeds and pricing plans, including fiber-optic connections, cable, and DSL.
Several internet service providers serve residential and commercial properties in Portugal. Notable providers include MEO, NOS, and Vodafone, offering a range of packages, from standalone broadband to bundled services combining internet, TV, and phone and mobile internet options. Each ISP boasts its pricing structure, service quality, and coverage areas. Ensure you compare available options in your location to find the best ISP; on average, the cost is .
Once you've selected your preferred internet provider, contact them directly or visit their websites to request a connection. Before signing up, compare plans based on speed, data limits, contract terms, and pricing. An installation technician from the ISP will visit your property to set up the necessary equipment and establish an internet connection.
Television in Portugal
Major television providers in Portugal include MEO, NOS, Vodafone, and NOWO. These companies also offer internet services, allowing you to acquire both utilities in Portugal from a single provider conveniently. The cost of receiving television channels in Portugal varies based on the provider, package, and additional features you choose. Pricing plans generally encompass a monthly fee ranging from approximately to or more, with potential discounts when bundled with internet services.
Portugal offers free-to-air television channels, providing a selection of public and private channels that can be accessed with a regular television antenna. This option allows viewers to access a limited number of channels without additional subscription fees.
To access television channels in Portugal, you typically need a television equipped with an external set-top box provided by the television service provider. This set-top box connects to your television, granting access to subscribed channels and services. Most providers also offer streaming services, enabling viewers to watch their favorite content on various devices, such as smartphones, tablets, and computers.
Waste disposal
Local municipalities primarily manage waste disposal and rubbish collection in Portugal. Waste disposal regulations in Portugal require residents to separate recyclable products and dispose of waste in designated ecopontos. Recycling guidelines can be found here.
Disposing of garbage
Local municipalities implement varying schedules for rubbish collection in each neighborhood or area. Refer to the waste collection calendar or contact local municipal services to determine the designated pick-up days for specific types of waste. Adhering to these schedules and placing your waste containers or bins at the designated collection points before the scheduled pick-up time is essential. Special handling may be required for certain waste types, such as hazardous materials or large furniture. If you encounter any issues or have specific inquiries regarding waste disposal regulations or property management in Portugal, contact your local municipal services for guidance. They can provide assistance regarding waste disposal procedures and collection schedules and address any concerns.
Cost of property utilities in Portugal
What is the monthly cost of property utilities in Portugal? An individual should expect to spend a minimum of on essential utilities every month, encompassing:
Basic utilities (electricity, heating, cooling, water, garbage): €110.50 ($119)
Mobile phone (monthly plan with calls and 10GB data):
Internet:
Get help with property management in Portugal
Leave your name and email below – Our property expert will reach out to explain more on this topic and answer all your questions.
Where to buy furniture in Portugal?
Portugal boasts several prominent furniture stores to cater to various tastes and budgets. IKEA has multiple stores nationwide, including Lisbon, Porto, and Algarve, offering affordable furniture options. Muji is renowned for its minimalist aesthetic, while Zara Home has a more fashion-forward selection in Lisbon and Porto.
For a local alternative, consider Moviflor, a major furniture retailer specializing in modern and contemporary designs. Jom is another popular store offering various budget-friendly furniture options, including living room sets, dining sets, and bedroom furniture.
If you seek unique pieces, Portugal also houses furniture manufacturers like A Loja do Gato Preto, blending classic and contemporary designs with a distinct aesthetic. Móveis D'arte specializes in high-quality, handcrafted furniture inspired by traditional Portuguese craftsmanship.
Online Furniture Retailers in Portugal
Several online furniture manufacturers in Portugal make furniture shopping convenient from the comfort of your home. Major retailers like IKEA, Muji, and Zara Home have user-friendly websites for online browsing and purchasing.
Online marketplaces like Amazon, Etsy, eBay, and Beliani are popular choices for furniture shopping in Portugal due to their extensive product selections and global reach. These platforms offer various new and vintage furniture items, allowing shoppers to explore various styles and price ranges.
Buying vintage or second-hand furniture in Portugal
Purchasing second-hand furniture in Portugal can benefit new property owners, especially those looking to explore property management in Portugal. You can save money compared to buying brand-new pieces, but used furniture often boasts unique styles, lending a distinctive character to your home, particularly if you plan to rent out your property.
Various avenues exist for finding unique and characterful used furniture in Portugal. Local flea markets like Feira da Ladra in Lisbon or Feira da Vandoma in Porto offer a plethora of vintage finds and opportunities to haggle for a bargain. Antique furniture shops and boutiques in cities and towns often showcase carefully curated vintage furniture collections. Additionally, online platforms such as OLX and Facebook Marketplace provide convenient ways to connect with sellers offering second-hand furniture for sale in Portugal.
Cost of furniture in Portugal
Furniture prices in Portugal can vary significantly, influenced by factors like the type of furniture, size, and quality. While affordable options are available, it's advisable to prioritize pieces that offer durability and longevity.
In Portugal, bedroom furniture can range from approximately to or more. Dining tables vary in price from to or higher, depending on design and materials. Chair prices exhibit a wide range, starting from about and potentially exceeding , depending on size, style, and upholstery choices. Consulting local furniture stores or online retailers is recommended for accurate and up-to-date information on furniture prices in Portugal.
How to find a property manager in Portugal
Many property owners in Portugal have come to recognize the value of having property managers, especially due to the daily responsibilities it entails. If you're still contemplating whether hiring a property manager is worth it, consider the following steps:
1. Opt for local expertise
Choosing a local property manager is paramount, especially if you're a foreign property owner in Portugal. Local professionals offer several advantages, including an in-depth understanding of the Portuguese real estate market, access to reliable local networks, and, most importantly, the ability to bridge the language gap with your tenants.
2. Prioritize experience
Experience is invaluable, so always opt for an experienced Portugal rental property manager specializing in property management in Portugal. Their extensive knowledge, problem-solving skills, industry connections, proven track record, and ability to adapt to changing circumstances make them well-prepared to handle the intricacies of property management. Their expertise ensures effective governance, risk mitigation, and the maximization of your property investment's potential in Portugal.
3. Assess specialized knowledge
When searching for a property manager in Portugal, don't decide solely based on their advertised services. Evaluate whether the candidate possesses the specialized knowledge required to run your rental business effectively. Assess their understanding of property maintenance, repairs, marketing strategies, tenant screening, and financial management, as these aspects are critical for maintaining property value, attracting reliable tenants, and optimizing returns.
4. Seek referrals
Referrals are a valuable resource when considering candidates, especially given the multitude of property management companies in Portugal. They streamline the selection process, save time and effort, and instill confidence that the recommended property manager has a proven history of delivering quality service. By leveraging referrals, you can select a reputable property manager who aligns with your specific property management needs in Portugal.
5. Evaluate customer service
Online reviews have simplified the process of finding and evaluating property managers in Portugal. Effective property management hinges on excellent customer service, especially with multiple tenants. Tenants favor responsive landlords who promptly address issues. You can gauge their interpersonal skills and responsiveness by reviewing customer feedback.
Cost of property management in Portugal
The cost of property management in Portugal is typically determined through negotiation, allowing both parties to agree on fees and terms based on factors such as property size, location, and degree of supervision. Management costs are generally lower in less touristy areas than in popular regions like Algarve.
In Portugal, basic management services usually come with an average monthly commission of 8-10% of the property's value. If additional supervision is needed, the commission may be higher, possibly reaching up to 20%. However, it's possible to negotiate a fixed arrangement where you pay a minimum fee per month.
Get help with property management in Portugal
Managing your property in Portugal can be daunting and time-consuming, especially regarding property management in Portugal. That's why choosing our expert property management services is a wise decision. We understand the complexities and challenges of overseeing your real estate investments, from legal and administrative responsibilities to maintenance and tenant relations. Let our experienced professionals handle the intricacies of property management, allowing you to enjoy the benefits of your investments without the hassle and stress. Your peace of mind is our priority, and with our dedicated team by your side, you can confidently navigate the Portuguese real estate market.
Get help with property management in Portugal
Leave your name and email below – Our property expert will reach out to explain more on this topic and answer all your questions.
Conclusion
This comprehensive guide on Property Management in Portugal offers vital insights into the complexities of effectively managing real estate assets in this beautiful European country. It covers a wide range of topics, from property acquisition and finding reliable cleaning services to property hunting, utility management, and securing the services of a skilled property manager. Navigating the intricate landscape of property ownership and management in Portugal requires a nuanced understanding of local regulations, cultural nuances, and market dynamics. Whether you're a seasoned investor or a newcomer, this guide provides the knowledge and practical advice needed to make informed decisions and ensure the successful management of your real estate investments in this captivating destination.
Frequently Asked Questions (FAQs)
What are the key responsibilities of property management in Portugal?
Property management in Portugal typically involves tasks such as property maintenance, tenant relations, and rent collection. Additionally, property managers ensure compliance with local regulations, making it a comprehensive service for property owners seeking efficient management.
How do I find a reputable property manager in Portugal?
Finding a reliable property manager in Portugal involves research and due diligence. Start by seeking recommendations from fellow property owners or real estate professionals. You can also explore online directories and read reviews. Interview potential candidates to assess their experience, knowledge, and services offered before deciding.
What costs should I expect when hiring a property manager in Portugal?
Property management fees in Portugal can vary based on factors such as property location, size, and services required. On average, property management fees range from 8% to 10% of the property's monthly rental income. Additional services or higher levels of supervision may result in higher fees. It's essential to clarify all costs and terms with the property manager before entering into an agreement.